YOUR ULTIMATE HOLD, NOW IN A BIGGER SIZE!
You asked for a bigger bottle & we've enhanced it to meet the highest standards, ensuring a secure and flawless hold.
It's bigger, it's better
Now Available in a Generous 5 fl oz. Designed for Hairstylists and Lace Enthusiasts! Designed for Hairstylists and Lace Enthusiasts!
shop lace layer plus
LACE GLUE MADE FOR YOU
Lace Layer, and our team of cosmetic chemists worked to develop a waterproof lace glue that you can trust to keep your wig secure and flawless! 
THE ULTIMATE SOLUTION FOR NATURAL LOOKING LACE
A semi permanent lace tint spray that allows you to tint your lace to match your scalp perfectly for a natural look!
MELT IN MINUTES
With our fast-drying formula you can install your wig in no time, making your daily hair routine a lot easier.
EFFORTLESS LACE WIG REMOVER
Lace Layer Lace Glue Remover is designed to easily and quickly remove your lace wig.
YOUR ALL-IN-ONE KIT
With our Lace Wig Essential Kit, you'll have everything you need for a perfect wig install every time, without having to purchase multiple products individually.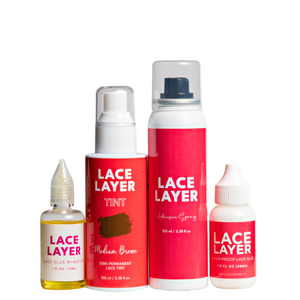 Let customers speak for us